Meet Brice – Coton Extraordinaire
By Margaret Billam (The Coton Malgache Canadian Coton de Tulear Club )
For quite some time I've noticed how very good my four little Cotons are at rooting through their toy basket, retrieving the exact toy they want, playing with it for a short time, leaving it to lie where it may and going back to the toy basket for another toy until the house is strewn with toys. I've often wished that the reverse process would happen. Just recently I've learned that there is hope and my little fantasy of having my dogs pick up after themselves may indeed become a reality.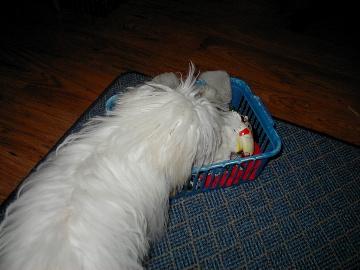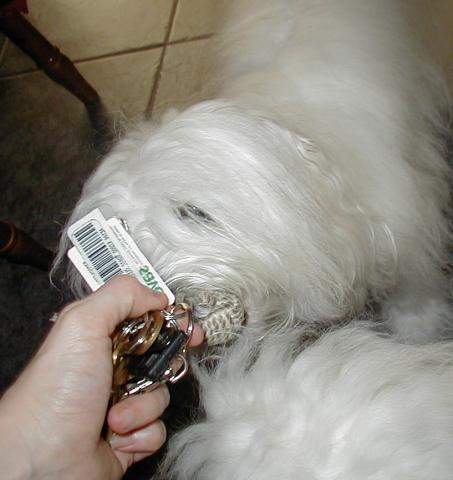 Brice putting her toys away
First, a little background before we meet the extraordinary Brice. The Service Dog field had expanded greatly since Dorothy Eustis, a native of Germany, established the first Seeing Eye Inc. in New Jersey, U.S.A. in 1929. In many countries around the world, dogs are now trained to be Hearing Ear, Seizure Alert, Disability Assistance and Medical Assistance dogs. The organizations that provide this valuable service are usually not for profit agencies. Two international organizations that have been established to aid and promote Service Dog work are 'Assistance Dogs International' (ADI) and 'International Association of Assistance Dogs Partners' (IAADP). ADI is a coalition of not for profit organizations that train and place assistance dogs. This organization provides minimum standards for training service dog and standards and ethics for clients, dogs, and member organizations. IAADP is an organization for those in the assistance dog field but is not necessarily limited to partners (canine and human) or providers (organizations.)
Assistance Dogs are highly trained to help their human partners live more independently. They learn to pick up items that have dropped on the floor, bring items to their owners, open cup-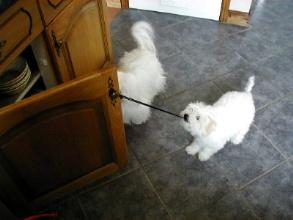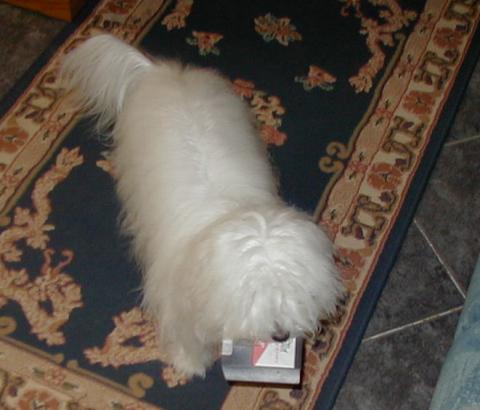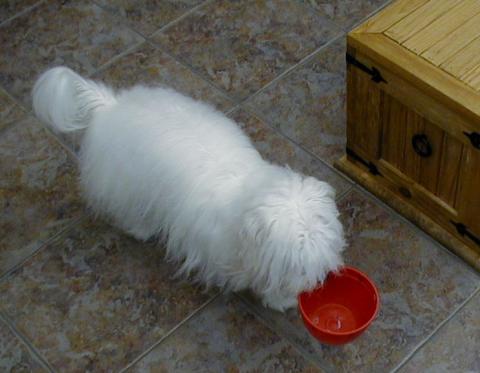 Cukoton Brice in training
boards and retrieve items, close cupboard doors, open and close all doors in the home. They can answer the door, turn lights off and on, load and unload the washer and dryer; bring in the mail and the newspaper. They can assist their owners to dress by bringing them clothing and undress by pulling off socks and pants and undoing shoelaces. They can help tidy by picking up all their toys and putting them in their toy box. They can even be trained to push buttons. Most importantly these dogs are trained to get help if their owner has an accident.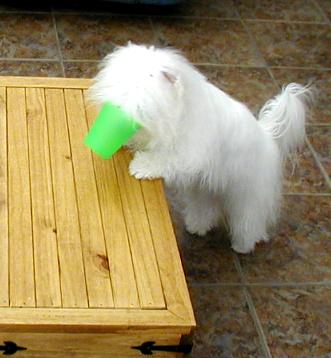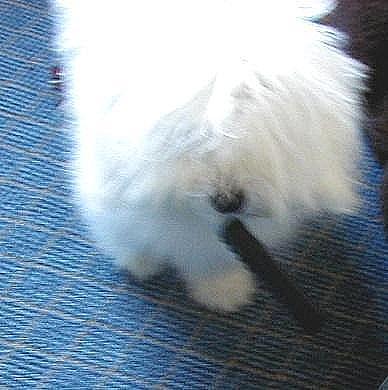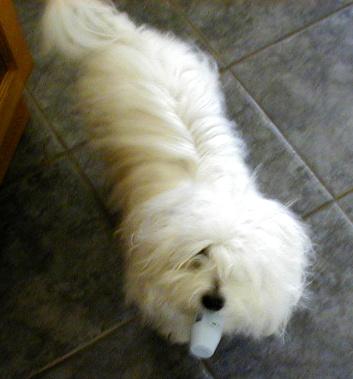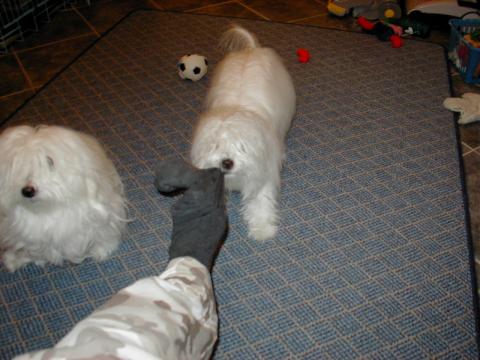 Most assistance dogs are large breeds
with Golden Retrievers and Labrador Retrievers among the most common. A larger dog is able to assist in ways a small dog cannot. They can help their people in and out of bed, the bathtub and wheelchair.
Official assistance dog training starts at about 10 months and can last until 24 months.
Assistance dogs must of course be very intelligent and very devoted to their people. In most countries Assistance Dogs are able to accompany their owners everywhere. In the U.K they are designated with a yellow jacket.
Cukoton Briceis a delightful little Coton bred and owned by Jo Scott who live in the U.K. She is a little over a year old now and has been in training to be an Assistance Dog since the age of 6 weeks. Jo had trained dogs in the past but had to stop for health reasons.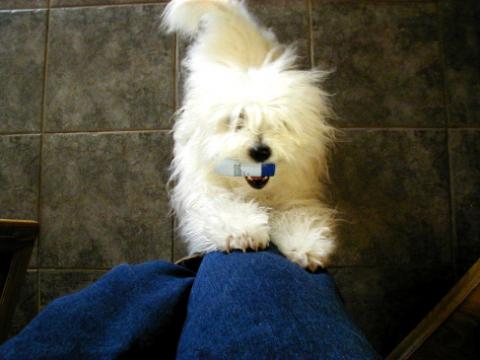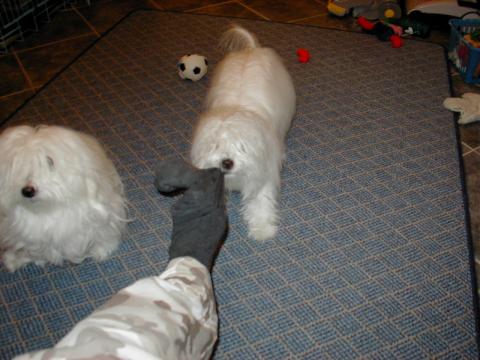 Brice with inhaler and taking Jo's Scocks off
When Brice was 5 weeks old Jo realized that she was different from her littermates. There was something very special about her and she was extraordinarily devoted to Jo. Since she now found herself in need of a little assistance, Jo began to train Brice by
Brice opening the cupboard door
having her play with toys in a certain way.
At just over a year Brice has learned to fetch the mobile phone when it's ringing or bring it to Jo when she wants to make a call. She can pick up most small items dropped on the floor and brings them to Jo. She brings Jo her purse from her shopping bag.
Doing the laundry is no problem. Brice can take clean washing out of the washer and pass it to Jo and brings dry clothes from the radiator to be folded. She helps Jo get undressed at night by removing her socks and trousers and passes Jo her clothes in the morning when she gets dressed.
She is able to bring in the mail and the newspaper and can also fetch the remote control as well as slippers and shoes. Brice can open and close cupboard doors and has also learned not to open the cupboard door and help herself to chew bones if she feels hungry. She enjoys any task that involves pulling so turning the bathroom light off and on is great fun for her.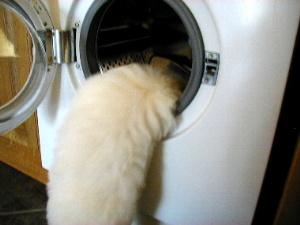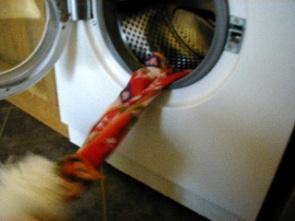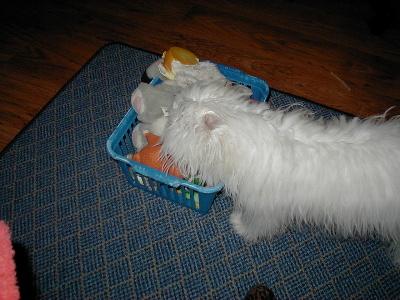 Tidying away dog toys into her toy box
The latest task Brice has learned is opening the backdoor to go outside. Now she and Vadi can go outside as needed.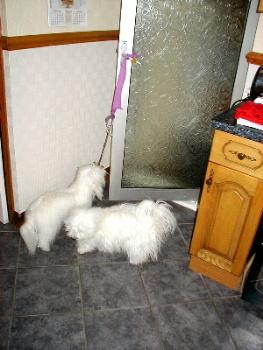 "Hurry up Brice!!"
Brice lets Vadi outside
Tidying away dog toys into her toy box and putting away Jack's (Jo's son) toys in to his toy box is a daily routine for her.
The latest task Brice has learned is opening the backdoor to go outside. Now she and Vadi can go outside as needed.
Although Brice is very accomplished for her young age Jo still has more training to do. She will not necessarily learn more tasks but she will learn to be more focused on the task she is doing and will learn to respond to a request more quickly.
The Coton's devotion to their owners has played a huge part in training Brice. She is very devoted to Jo. Training has not been difficult but it has been continuous. Training sessions were kept at 10 minutes as Brice got bored quickly and they were made fun to keep her interested. She began learning the basic "sit", "stay", "down" and "fetch" at 6 weeks. As a little puppy Brice was allowed to chew toys as putting things in her mouth is a big part of her job. If she pick up or chewed something she was not suppose to have she was never corrected or perused. When she put the item down she was rewarded with praise and a treat for putting it down. After a few months she began to get bored with stealing items and began to bring them back for treats.
This part of her training was not without a few of accidents. A slipper, remote control, a piece of Lego, an action figure and a dog brush were eaten in the name learning. Jo keeps Brice in new dog toys that she happily shreds just like all little Cotons. Her Christmas supply of 6 new toys was cut in half by dinner time Christmas day but Jo says it's a technique that works well as Brice has learned what is in her toy box is hers and she now leaves human items alone.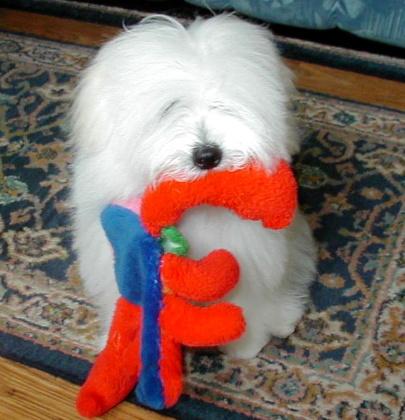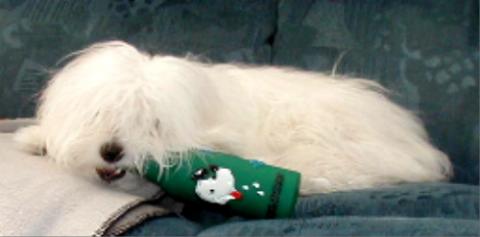 Jo is very pleased that Brice has proven that a small dog can be trained to do assistance work even though there are some tasks she can't do because of her size.
Brice will never be a fully qualified assistance dog who can wear a yellow jacket because all assistance dogs must be spayed or neutered. The Scotts would like to show and breed from her. This means that Brice will not be able to accompany Jo to many places in public but that is of little consequence as Brice is a great deal of help at home.
Jo points out that a Coton may not be an ideal assistance dog for everyone. Grooming can be a problem for some people. But for Jo provides exercise for her fingers and her Cotons it is very relaxing.
As for my 4 little dust mops – it's boot camp for them!
All videos can be seen on youtube under Cukoton