Chewie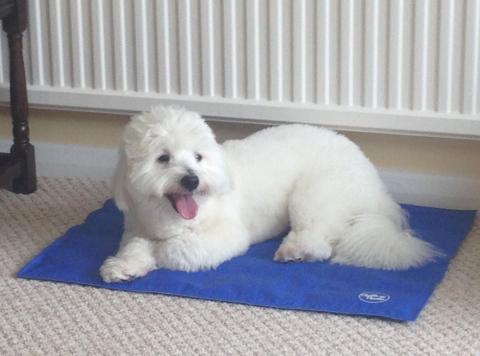 Cukoton Hocus Pocus (Chewie) has a lovely temperament, he's loving, gentle. A smaller male 11 inches But within the Coton de Tulear Standard. He has excellent confirmation and movement. His front is very straight, tail set low, ears high set. Fully intact male with good rear drive. He has a good textured coat of correct texture which owners choose to keep short. Chewie has full pigmentations throughout and the correct scissor bite. Chewie is loved and adored by Vanessa & John. Chewies mother is Cukoton Skys the Limit and she is Clear for all 10 of the Coton DNA health disorders. Chewies father is Cotonalba Barrapoll clear of the tested disorders he has been tested for.
Chewie is available for Stud
Chewie is health tested for
CMR2 : Clear N/N. IVDD/CDDY/CDPA : Clear N/N. NA : Clear N/N.