Cukotons latest member to our family. The beautiful Kova
Kova is a joy, She has the sweetest loving personality whom loves people and dogs. She has a wonderful thick Coton coat
and the most beautiful stucture we could dream of. Beautiful striking dark eyes and black pigmentation all over.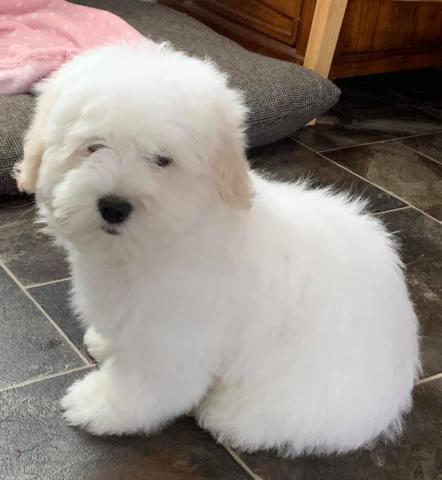 Kova (Cukoton Daddy Don't Cry has been health tested for all
10 DNA health Disorders that can affect the Coton de Tulear and is CLEAR of all
and also clear of 183 other DNA Health Tests.
Primary Hyperoxaluria (PH)
BVA Eye Test (Yearly test)
Von Willebrands Type 1 (VW1)
Malignant Hyperthermia (MH)
Progressive Retinal Atrophy (PRA-prcd)
Primary Lens Luxation (PLL)
Degenerative Myelopathy (EXON 2)
Hyperuricosuria
Canine Multi-Focal Retinopathy TYPE 2 (CMR 2)
Chondrodystrophy (CDDY)
Chondrodysplasia (CDPA) with risk of Intervertebral Disk Disease IVDD
Neonatal Ataxia (NA)