Nilly is the newest member to the Cukoton Crew. Her showing debut will be later in 2021. Nilly has the most wonderful character and she is the first ever coloured Coton we have ever bred in nearly 30 years. her coat will gradually fade and she will look nearly pure white with cream and light grey patches at 1 years old.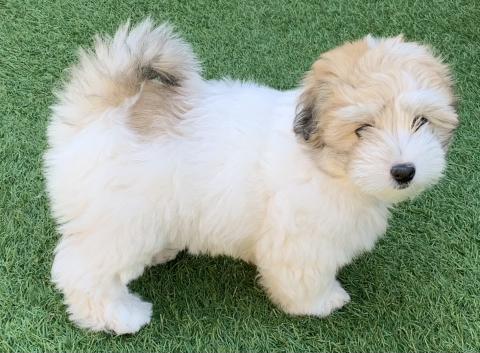 (Cukoton wigwambam has been health tested for all
10 DNA health Disorders that can affect the Coton de Tulear and is CLEAR of all
and also clear of 189 other DNA Health Tests.
Primary Hyperoxaluria (PH)
BVA Eye Test (Yearly test)
Von Willebrands Type 1 (VW1)
Malignant Hyperthermia (MH)
Progressive Retinal Atrophy (PRA-prcd)
Primary Lens Luxation (PLL)
Degenerative Myelopathy (EXON 2)
Hyperuricosuria
Canine Multi-Focal Retinopathy TYPE 2 (CMR 2)
Chondrodystrophy (CDDY)
Chondrodysplasia (CDPA) with risk of Intervertebral Disk Disease IVDD
Neonatal Ataxia (NA)